So, I've been seeing this little thing called StitchFix all over the blog world within the past few months. It sounded too good to be true really. You go to the Stitch Fix website and create a personalized style guide. Once you schedule your first "fix" to be delivered, your personal stylist (yeah, you basically get to sound as cool as Kate Middleton) gets to work on selecting pieces just for you based upon your style guide and sizing.
When my first Stitch Fix package arrived over the weekend. It literally felt like my birthday. Knowing that the five items in the box had been selected just for me was a really exciting thought.
I was a little nervous because I had read many, many reviews on various blogs about Stitch Fix, and it always seemed like it took a few orders for the stylist to really get your style. Thankfully, this was not the case with me. My stylist really nailed down my style right out of the gate. Let's take a look shall we…(Disclaimer: I apologize in advance for the crappy mirror photos! I'm going to work on better photos for box #2. These were just done in a hurry out of excitement.)
1 : Dylan and Rose Madeline Metalic Dot Belted Dress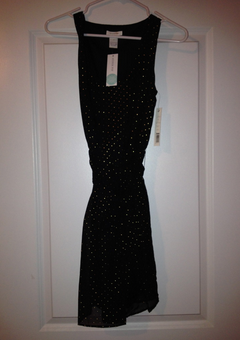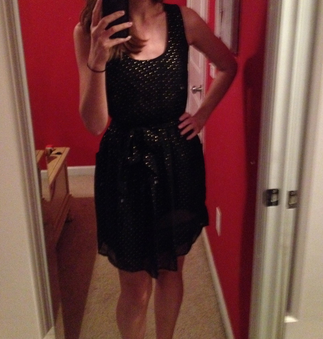 I actually have a dress pretty similar to this, so this one got returned.
2 : THML Aptos Button Detail A-line Dress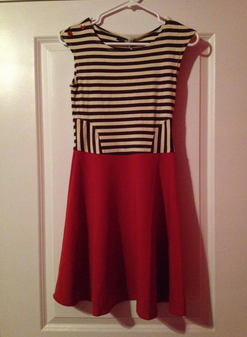 I liked that this dress is versatile. It's great for work, church, parties…you name it! It was a keeper for sure.
3 41Hawthorn Colibri Solid Tab Long Sleeve Blouse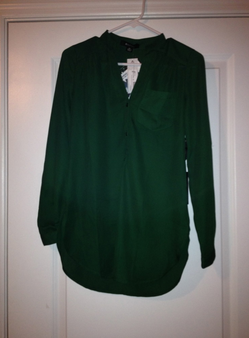 I loved everything about this shirt! First of all, I am a major fan of flower wall jewel tones. I know the picture doesn't quite do this color justice. Second of all, it's a great length for pairing with leggings. Sold!
4 : Sanctuary Rizzo Skinny Ponte Pants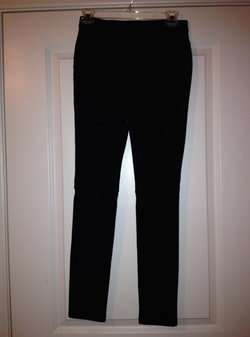 Initially I thought these pants were a definite no. I have some similar 'jegging' style black pants from Target. Then when I saw these babies had no zipper or button, I became slightly terrified. There was just no way. Much to my surprise though, they fit. They fit perfectly. They are just like wearing thicker, more work appropriate leggings. The price definitely made me want to cry, but I justified it that I would be living in these pants now. Keeper!
5 : THML Azariah Striped Sleeve Button-Up Cardigan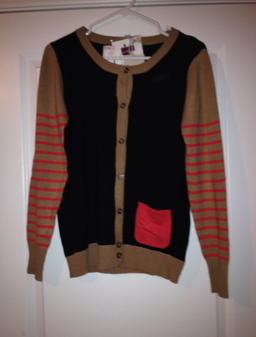 I love some good ole' Mr. Roger's style cardigans. If this had been a different combo of colors then it would have been a no-brainer. Unfortunately, the bland tan and orange just were not doing me any favors. This was returned.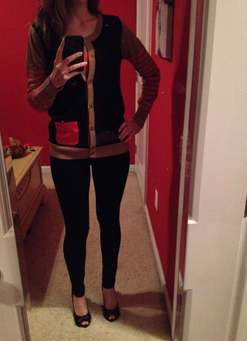 Overall, I was super impressed with my Stitch Fix experience. I'm already counting down the days until my next box (December 7th, where are you?!).
Something else that was really cool….each piece comes with a style guide card to give you ideas on how to wear the item.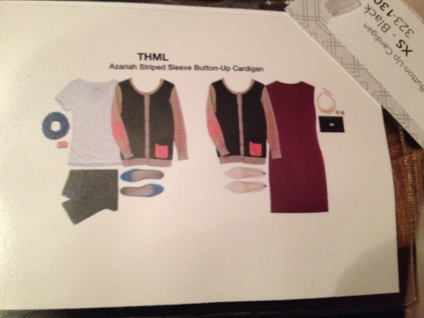 I can't recommend Stitch Fix enough. I just want all my friends to know about it!
If you happen to want to give Stitch Fix a try, you can use my referral code below and I'll get a $25.00 credit : )
My referral code: https://www.stitchfix.com/referral/3227663
Have y'all ever used Stitch Fix before? If so, how was your experience?