I hope you and your family had a wonderful Christmas! I'm so glad that I was able to take a break from social media (for the most part) and blogging for the week to really focus what Christmas is really about: the celebration of Christ's birth and spending time with loved ones. The bad thing about this time of year is that I always go through a bit of post-Christmas depression. Does anyone else feel this? I dread nothing more than packing up all my pretty Christmas decorations for the year. Why can't it be Christmas for like three months? I don't think it's too much to ask. Since I'm in my post-Christmas blues, what better cure than looking at Christmas decorations from my trip to NYC last weekend!?
Last Saturday, Anna Grace and I reserved the entire day for some shopping along 5th Avenue and seeing some of the classic NYC Christmas sights.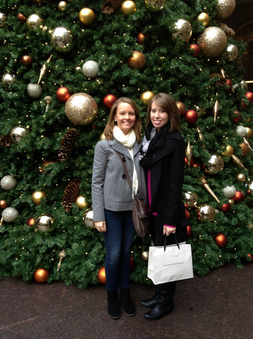 In front of the tree at The Palace (how Chuck Bass does Christmas).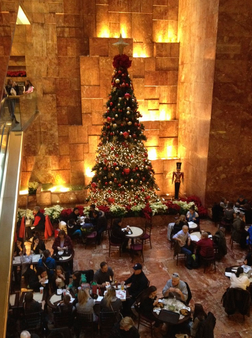 Inside Trump Tower.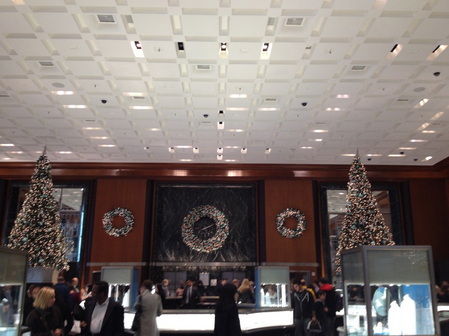 Inside Tiffany's.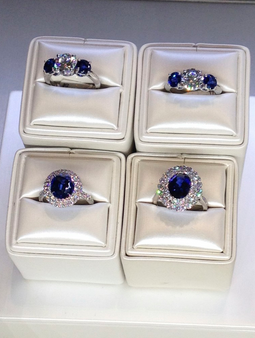 Against my better judgement, I tried on the bottom left-hand ring in the picture above (because I have a Kate Middleton complex). It was truly beautiful. Then I made the fatal error of asking the price…68,000! I tried not to let the salesperson see me cry.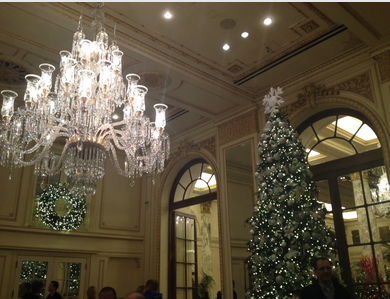 Inside the gorgeous Plaza Hotel.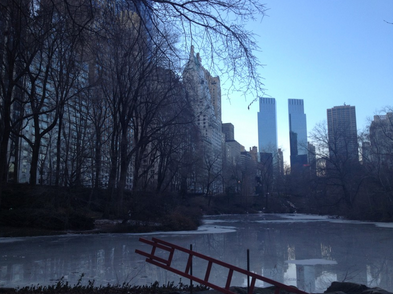 Of course we made a quick trip into Central Park. It was so weird seeing the lake frozen over.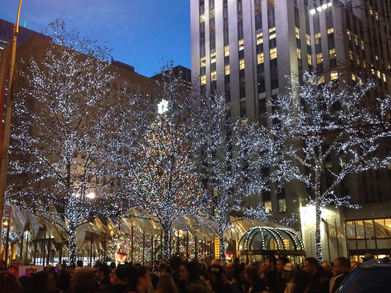 We ended our day of shopping at the Christmas must-see: Rockefeller Center. It's funny because in my head, I always pictured how beautiful Rockefeller Center would be at Christmastime, which it was. What I never pictured was the insane amount of people! The police literally had the streets surrounding Rockefeller Center blocked off. You could not move without touching a stranger. Even with all the people, I would still highly recommend seeing it at Christmas because, I mean, look at this tree!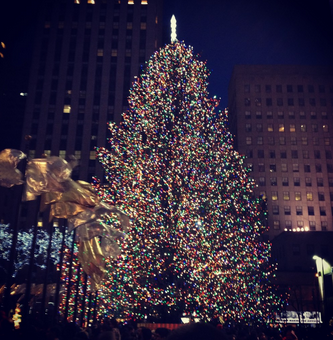 After fighting our way through crowds all day, we just wanted to sit down and relax. We came across Patsy's Pizzeria and stopped for dinner. The manager was so kind and must have seen how tired we were. He offered us some wine on the house while he got out table ready. Now that is some good service!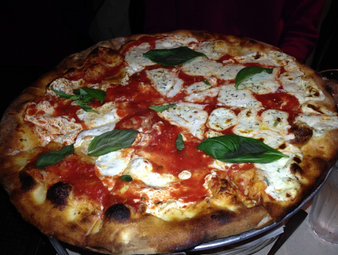 After resting up for a bit at the apartment, we braved the crowds yet again to see some of the coolest Christmas decorations ever.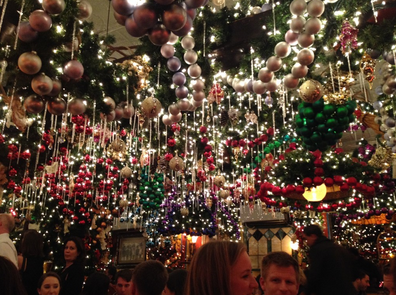 Rolf's is a tiny little German restaurant and bar that apparently like to do it up big during the holidays. I had seen some praise about Rolf's on a couple of blogs, but when my friends posted some pictures on Instagram from there, I was sold!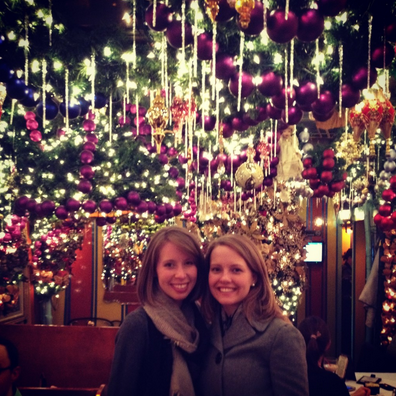 Oh, we were so tired in this picture! But, seeing the decorations at Rolf's was definitely worth the 30 minute wait to get in.
As tired as we were, we knew we only had one more day left in the city to enjoy – and what a day it was!
How was your Christmas? Anything crazy happen at your Christmas dinner? Any snow?
What was the best gift that you got? Mine is a tie between my new purse I got in NYC or my new juicer. (If you have any great juice recipes, please let me know in the comments!)
What was the best gift that you gave? The best gift I gave was probably the Coach wallet I gave to my mom. My mom is the type of person who never buys things for herself, but always gives to others. So, I was happy to be able to give her something nice that I knew she wouldn't just buy herself.